OCCC Master Plan
OCCC Master Plan
Opened in 1972, Oklahoma City Community College now covers 148 acres, with nearly 962,000 sq. ft. of building space. Campus center of the popular South Oklahoma City commuter school is only a five minute walk from perimeter parking and is easily accessible from Oklahoma City roadways. Triad Design Group architects collaborated with urban and university planner, Ferrell Madden Lewis to develop a long range Master Site Plan for OCCC as a guide for future buildings, grounds, and outdoor events. Master Plan priorities:
1. Develop and enhance the pedestrian-friendly campus in an environmentally sustainable manner
2. Maintain a sense of campus community
3. Strengthen college-community relationships
OCCC's committed strategy for planned growth is represented in over thirty-five years of Triad A&E design which include:
▪The Visual and Performing Arts Center (VPAC): Divisions of Film and Video, Visual Arts, Music, Photography and 1,100 seat acoustical Theater.
▪The Keith Leftwich Memorial Library: Triad designed the four-story 109,000 sq. ft. library with its iconic red roof peak to be a dominant architectural landmark in South Oklahoma City.
▪The Health Professions Center: The two-story 43,000 sq. ft. complex houses all of OCCC's health care programs and features 15 classrooms and labs for Physical Therapy and Occupational Therapy programs; and emergency medical services lab that includes ambulance and human patient simulator. OCCC is Oklahoma's only nationally accredited paramedica program and largest single site nursing program.
▪Robert P. Todd Science Engineering and Math (SEM) Center: The 65,000 sq. ft. facility includes classrooms, 30 faculty offices, six group labs, two super labs for math and science, and a world-class botany classroom and greenhouse. Housed within the facility is the Center for Learning and Teaching with an area designed for on-line learning.
▪OCCC Family and Community Education (FACE) Center: Extended campus location houses community outreach and education department, Child Development Center and Lab School
▪The Aquatic Center: A premier competitive natatorium with pool 50 meters long and 25 meters wide with separate 18' 6" deep diving well with 4 springboards (2 one meter and 2 three meter) and platforms at 5, 7, and 10 meters.
▪Arts Festival Oklahoma Site: Dedicated site for the Labor Day weekend festival celebrated since 1979 with juried arts show, entertainment and cuisine.
Visual and Performing Arts Center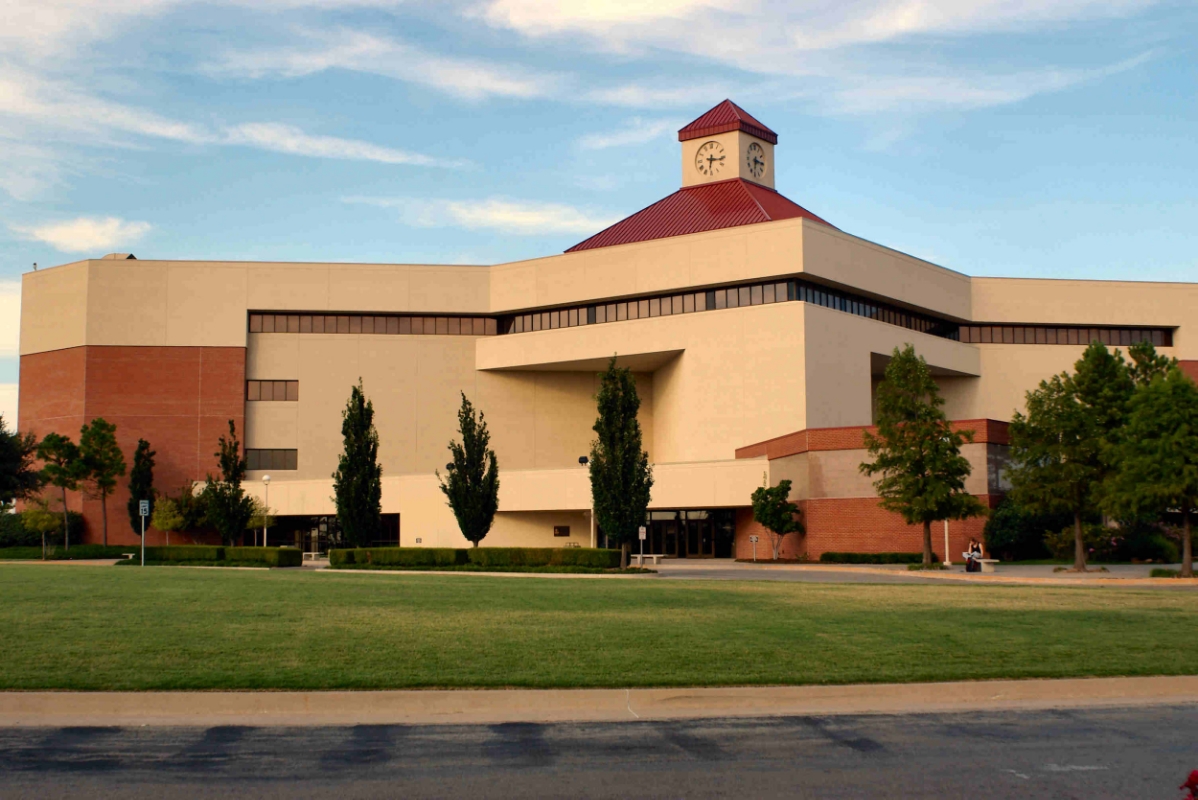 Keith Leftwich Memorial Library